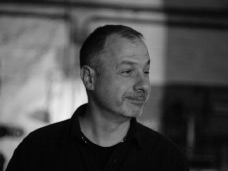 DE  Jürgen Heinz: "Die Seele des Objektes kommmt durch die Bewegung zum Vorschein"
Jürgen Heinz arbeitet mit Stahl. Bewegung bestimmt sein künstlerisches Schaffen. Mit seinen MOVING SCULPTURES überschreitet er die unüberwindbar scheinende Kluft zwischen archaischem, schwerem Stahl und sanfter Bewegung. Virtuos spielt der Künstler mit Gewicht und Form, Harmonien und Kontrasten, Gravitation und Schwerelosigkeit. Einige Objekte verbergen ihre Beweglichkeit in einer geschlossenen Form, die zunächst als Statische Plastik wahrgenommen wird. Ein leichter Impuls, ein Berühren oder Windhauch bringt die Plastik zum Schwingen und weckt ihre Lebendigkeit. Die MOVING SCULPTURES von Jürgen Heinz kommunizieren mit dem Betrachter, berühren, ziehen in Bann und fordern auf zum Agieren. Jürgen Heinz ist auf internationalen Kunstmessen wie art KARLSRUHE, ART STRASBOURG, ART BRUSSELS, BASEL CONTEMPORARY vertreten, seine Arbeiten sind teils temporär, teils permanent installiert im Öffentlichen Raum und in Museen und Kunsträumen wie der Skulpturenhalle der Stiftung für Konkrete Kunst Roland Phleps dem Museum Stangenberg Merck.
EN  Jürgen Heinz:"The soul of the object is revealed through movement." Jürgen Heinz

Jürgen Heinz works with steel. Movement determines his artistic work. With his MOVING SCULPTURES he crosses the seemingly insurmountable gap between archaic, heavy steel and gentle movement. The artist plays virtuosically with weight and form, harmonies and contrasts, gravity and weightlessness. Some objects hide their mobility in a closed form, which is initially perceived as static sculpture. A light impulse, a touch or a breath of wind makes the sculpture swing and awakens its vitality. The MOVING SCULPTURES by Jürgen Heinz communicate with the audience, touch, beguile and call to action. Jürgen Heinz is represented at art fairs such as art KARLSRUHE or BASEL CONTEMPORARY, his works are partly temporarily and partly permanently installed in public spaces and in museums and art spaces such as the sculpture hall of the Roland Phleps Foundation for Concrete Art or at Museum Stangenberg Merck.

PREISE I PRIZES
Preisträger des Jurypreises des Skulpturenparkes Mörfelden Walldorf 2015, Moving Column
Preisträger Internationaler Kunstwettbewerb "Bewegter Wind, Edition 10, Change?!", 2021, Moving Square
Winner of the Juryprice of Skulpturenpark Mörfelden Waldorf 2015, Moving Column
Winner of the International Art Competition "Bewegter Wind, Edition 10, Change?!", 2021, Moving Square
SKULPTURENPLATZ art KARLSRUHE 2023